POLO PRODUCTS
QUICK LINKS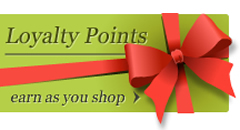 Loyalty Points Program
Now for every purchase you make, small or large, your account will be credited with reward points that you can redeem against future purchases. Save your points over time to acquire larger goods or redeem them more frequently for smaller items. The choice is yours.
Our system will automatically detect your points so no need to enter any special codes at checkout. All you need to do is create an account once and make sure you are logged into your account when making any purchase.
Collect 100 points per £1 spend.
Redemption value for a point is 0.0002
Points are awarded on the total value of the cart less any discounts which have been applied. They are also independent of shipping and handling.
But it doesn't stop there - if you have an online account with us you can still earn and redeem your points on purchases made in our Lingfield based Polo Shop or purchases made over the phone.
From time to time we will run special point promotions, so keep an eye on our facebook page Porto Polo Ltd for details of these.
HAPPY POINTS SHOPPING