About us .....
Porto Polo Ltd was established in 2003 as an internet company that grew quickly necessitating a move to premises and a showroom/retail facility. So, customers are now offered the chance to browse and try on those items such as helmets and boots to ensure the perfect fit. In addition Porto Polo is very pleased to be the official supplier for both the All England Polo Club at Hickstead & Surrey Polo at Burningfold Polo Club in Godalming.
Run by myself, Jo Townsend, once an avidly keen player - reaching a handicap of zero goals, until family life caused a temporary hiatus in the playing career but I hope to resume one day if time allows. This background ensures that I know the full rigours of the game and can offer insight to anyone who might need a little advice about their purchases.
Jo Townsend
Managing Director
Contact us .....
UK Registered Office/Shop Address :
Porto Polo Ltd
Unit 1, Carewell Barn,
St Piers Lane,
Lingfield,
Surrey,
RH7 6PN

Via E-mail : info@portopolo.com
Via Telephone : 01342 835529 or mobile 07904 085902
Find us .....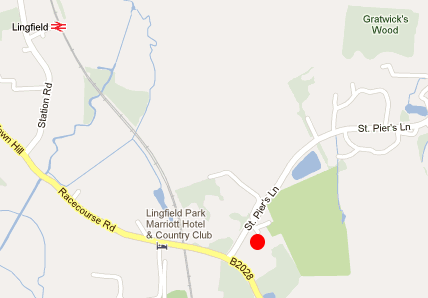 Porto Polo Ltd
Unit 1, Carewell Barn,
St Piers Lane,
Lingfield,
Surrey,
RH7 6PN
Stock Availability & Shipping .....
All products are subject to availability. If any items are out of stock you will be advised on expected delivery dates.
UK Mainland delivery charges are dependent upon the total weight of the order packaged together.
0 - 500g £4.99 (minimum charge) (VAT inc)
>500g - 1kg £5.85
>1 - 5kg - £7.00
>5 - 15kg - £8.50
>15kg - £9.90 (maximum charge)
Out of Area delivery (2-3 days transit) (VAT inc)

Scottish Highlands £13.50 up to 20 kg
Northern Ireland £13.50 up to 20kg
UK Islands £22.50 up to 20kg
Isle of Wight £13.50 up to 20kg


Your order may be delivered as more than one package depending upon availability. If we are unable to send your entire order as one parcel you will only pay one delivery charge.
Orders will be despatched using a door to door courier service within 2 business days.

We endeavour to send out orders as soon as possible having received authorised payment, and will aim for delivery within 2 working days from the date of order however please allow up to 14 business days for imported items.

Order Acceptance, Returns & Refund Policy .....
Order acceptance and the completion of the contract between you and us will take place on the dispatch of the Products ordered to you unless we have notified you that we do not accept your order or you have cancelled the order within 7 days of order placement.
Non-acceptance of an order may be a result of one of the following:-
- The product you ordered being unavailable from stock.
- Our inability to obtain authorisation for your payment.
- The identification of a pricing or product description error.

If you are not entirely happy with your purchase for any reason, we will gladly exchange or refund your unused goods. Goods that are custom made eg. polo boots or helmets will only be refunded to a value of 25% of the purchase price if they meet all the other conditions of refund stated below. Please return your goods within 14 days.
Conditions of exchange/return/refund :-
1. Within 14 days of delivery, you may return any non-sale items you purchased from Porto Polo Ltd for any reason subject to the conditions in point 3 below.

2. Please email us before returning an order to returns@portopolo.com to get a "Returns Authorization Number". Include a copy of the original invoice along with your Returns Authorization Number. When sending a return please obtain a certificate of posting as we cannot be held responsible for goods lost in returned post. Goods should be returned in saleable condition to: Unit 2, Carewell Barn, St. Piers Lane, Lingfield, Surrey, RH7 6PN. Customer is responsible for all shipping and handling charges for product return.

3. We cannot accept for exchange/refund:
- Any items returned more than 14 days after delivery.
- Any item that has been worn or used
- Any item that has had the tags removed.
- Any item that has been washed.
All items returned must be in their original condition. We reserve the right to refuse any returned item that is damaged.
4. Please do not send us items that do not meet the conditions listed above, as we do not issue refunds for non-qualifying items and cannot return the items to you.
Privacy Policy .....
What information do we collect?
We collect information from you when you register on our site, place an order or subscribe to our newsletter.
When ordering or registering on our site, as appropriate, you may be asked to enter your: name, e-mail address, mailing address, phone number or Porto Polo Ltd.
What do we use your information for?
Any of the information we collect from you may be used in one of the following ways:
; To personalize your experience
(your information helps us to better respond to your individual needs)
; To improve our website
(we continually strive to improve our website offerings based on the information and feedback we receive from you)
; To improve customer service
(your information helps us to more effectively respond to your customer service requests and support needs)
; To administer a contest, promotion, survey or other site feature
; To send periodic emails
The email address you provide for order processing, may be used to send you information and updates pertaining to your order, in addition to receiving occasional company news, updates, related product or service information, etc.
How do we protect your information?
Your private information (credit cards, social security numbers, financials, etc.) is not stored on our servers.
Do we use cookies?
Yes (Cookies are small files that a site or its service provider transfers to your computers hard drive through your Web browser (if you allow) that enables the sites or service providers systems to recognize your browser and capture and remember certain information
We use cookies to help us remember and process the items in your shopping cart.
Do we disclose any information to outside parties?
We do not sell, trade, or otherwise transfer to outside parties your personally identifiable information. We may release your information when we believe release is appropriate to comply with the law, enforce our site policies, or protect ours or others rights, property, or safety.
Your Consent
By using our site, you consent to our
online privacy policy
.
Changes to our Privacy Policy
If we decide to change our privacy policy, we will post those changes on this page.
Contacting Us
If there are any questions regarding this privacy policy you may contact us using the information below.
www.portopolo.com
Unit 1, Carewell Barn, St. Piers Lane
Lingfield, Surrey RH7 6PN
United Kingdom
info@portopolo.com
This policy is powered by Free Privacy Policy and Rhino Support
help desk software
.
Disclaimer .....
TO THE FULLEST EXTENT PERMITTED AT LAW, PORTO POLO LTD IS PROVIDING THIS WEB SITE AND ITS CONTENTS ON AN "AS IS" BASIS. PORTO POLO LTD DOES NOT REPRESENT OR WARRANT THAT THE INFORMATION ACCESSIBLE VIA THIS WEB SITE IS ACCURATE, COMPLETE OR CURRENT. Price and availability information is subject to change without notice. Prices are stated in Pounds Sterling and do not include any local taxes or custom duties which are the sole responsibility of the purchaser.
Except as specifically stated on this Web site, to the fullest extent permitted at law, neither Portopolo.com, Porto Polo Ltd, nor any of its affiliates, directors, employees or other representatives will be liable for damages arising out of or in connection with the use of this Web site or the information, content, materials or products included on this site. This is a comprehensive limitation of liability that applies to all damages of any kind, including (without limitation) compensatory, direct, indirect or consequential damages, loss of data, income or profit, loss of or damage to property and claims of third parties. For the avoidance of doubt, Porto Polo Ltd does not limit its liability for death or personal injury to the extent only that it arises as a result of the negligence of Porto Polo Ltd, it's affiliates, directors, employees or other representatives. Porto Polo Ltd sells equipment intended for use by qualified players and is not liable for any damages or injuries resulting from the misuse of these products.

No contract will subsist between you and Porto Polo Ltd for the sale by it to you of any product unless and until Porto Polo Ltd accepts your order by e-mail confirming that it has dispatched your product. That acceptance will be deemed complete and will be deemed for all purposes to have been effectively communicated to you at the time Porto Polo Ltd sends the e-mail to you (whether or not you receive that e-mail).